Smoky eyes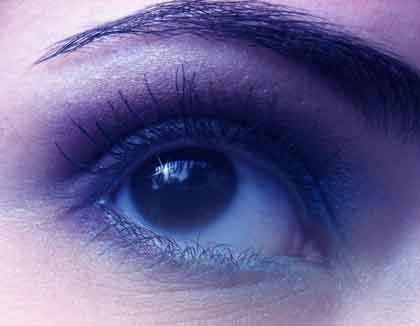 I almost never wear make-up because I seldom have the chance to show it off (unless Team Sugoi decides to go video blogging. Hmm… now that's an idea!). And when I do, I tend to go for the basics: powder, eye pencil, cheek stain and lip gloss. But there are times when I feel like being fabulously flamboyant. And what is more dramatic than smoky eyes?
Unfortunately for most Pinays blessed with brown skin tone, this is rather difficult to achieve because the color contrast is minimal (dark eyes and dark skin, er…). But who cares? If your eyes are your asset, then show them off!
So without further ado, I now present you, smoky eyes. Curtain!
Step 1
Apply your usual foundation. Set the skin with loose powder.
Step 2
Dab concealer under your eyes using your finger. Just pat on the darker spots and not on the whole area.
Step 3
Line the top and bottom rims of your eyes with black eye pencil. Try to pay attention to the lash line itself. Soften the edges of the line with a small eye shadow brush.
Step 4
Apply black powder eye shadow directly over the pencil with a sponge-tip applicator. Smudge gently with your finger tip.
Step 5
Encircle your entire eye with brown eye shadow. Apply using an eye shadow brush. Lighten application as you go outwards. The color should be darker nearer the eyes and lighter farther the eyes.
Step 6
Curl lashes and apply mascara. Be careful that the mascara does not clump.
Step 7
Apply the rest of your make-up.
More tips…
1. Instead of using black, you may also experiment with other dark hues such as midnight blue, hunter green, dark violet, and dark brown. Be sure that the other colors you will use will complement the hue of your choice.
2. By all means, use your fingers if you find the brushes intimidating.
3. Try the technique first and feel free to tweak here and there. There is nothing more frustrating than being unable to pull it off just minutes before a big date!
4. Most importantly, if you are going for this look, be sure that your blush-on and lip color are simple. The idea here is to draw attention to your eyes. We don't want too much drama either. Personally, I just use stain for my cheeks and a light brown colored shimmer on my lips.
Exeunt!