100% Jousei

I most remember Chelli-chan as the nervous kid who had the misfortune of being the receiving end of my katarayan during a formal interview.
FLORI: Are you nervous?
CHELLI: Yes, Ma'am.
FLORI: Well you should be!
So Cherie Gil-Sharon Cuneta, isn't it? Anyway, who would have known years later that that same trembling kid would become Chelli Mariano, J-event host extraordinaire!
Don't let that cute petite package fool you. This girl can warm up the crowd with her wit and warmth.
"Lumalabas pagka-bading ko kapag nasa stage ako," she told me with a straight face. Yeah, right as if that twinkle in her eyes could lie. Trust me, this girl is 100% jousei.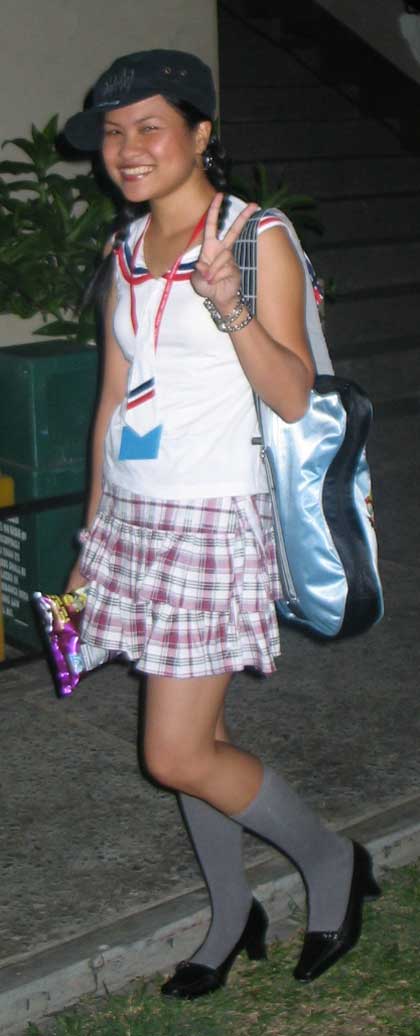 Chelli with Jen and Elle, friends of Juujiro J-Culture. They're into K Culture but who cares?
Co-host Denise and Chelli giving away prizes to the crowd.
Hmp! This guy beat me into getting that prize! He won twice that night!
Yeah, Chelli! Give em THE LOOK!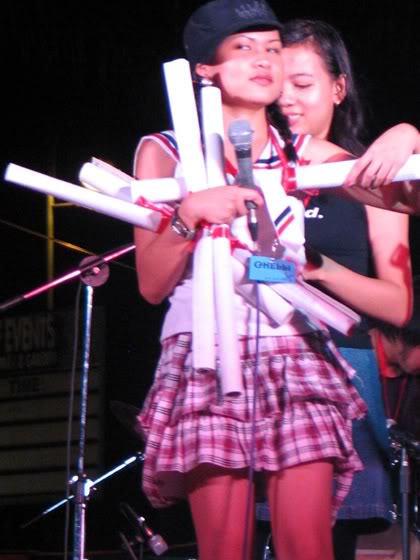 … which did not exactly deter a guy to steal a kiss. From Chelli ba or from Denise? I forgot, is this that same guy? I was too shocked to remember. The gall! Hehehe!
Chelli doing her job and Setsuna before doing her job. 😛
Pictures courtesy of NinJulius. If you wish to book Chelli for hosting events, just e-mail the author. And no, I am not her agent and I do not get cuts from her talent fee. 😛