Got J crunched!
Finally! Busy, busy, buseh! The author would like to apologize to the people who have been expecting something about J Crunch Ripiito. Well, you're in luck because this is just the first of many posts about the event. Neat, huh? Please visit often for updates.
I've been in and out of the J community for the past 7 years but to tell you the truth, this is actually the first time I've ever been to a J-Music event. Doing media coverage on behalf of Sugoi Stuff definitely cured me of my homebody tendencies. In fact, I lost my Pinoy J-Music scene virginity at the J Crunch Ripiito last Saturday.
Let's face it, my knowledge of J music is quite limited (surprising, but true). I have (and still don't) have any idea about most of the songs in any of the bands' play lists. Needless to say, I had no expectations about the event. And boy was I surprised!
Those guys were good! I mean, they're really quite the talented musicians and performers. Definitely waaaaay better than the "pogi manufactured bands" that have been ruling the airplays with their insipid lyrics and/or OPM rehashed songs. Hey, I have had my fair share of the local indie rock club scene, so I know what I'm talking about here!
One of the bands, Molded Sushi, performing on stage. Photo by NinJulius
Unfortunately, the event started (and ended) late. Some politicians decided to hold a miting de avance near the venue and one of the emcees and some of the performers were holed up in a major traffic jam (parang kasalanan pa nila eh hehe). The audience too was small despite the free admission.
Ms. Alma Mendiola, current president of Juujiro J-Culture Organization, couldn't help but express her dismay over this although, of course, the circumstances couldn't be helped. Despite this, she and the other Juujiro members
were quite pleased about the outcome of J Crunch Ripiito.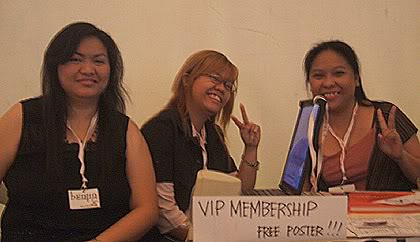 Juujiro J-Culture Officers at the Nihongo Fiesta 2007
"We'll probably do this again after two years," Alma enthused. "It's just enough time to gather more resources so that the third J-Crunch will be bigger and better. I'm just glad that we were able to pull this through despite the whole traffic thing. I mean the bands were happy, the audience was happy, so why shouldn't we? After all, we're in it not for the money but to promote J culture through music."
The stage. Photo by NinJulius
As for me, it was no contest. I did definitely enjoy the experience! It even came to the point when I forgot that I was there for professional reasons. Yeah, yeah I was guilty of doing some embarrassing fan-girl screaming *grumble-mumble* Anyway, I still end-up smiling as I remember some points during the event, ne Chelli-chan? After all, it sure was one heck of an initiation!