There are wedding cakes and there are wedding cakes
When I get married, I want one like this: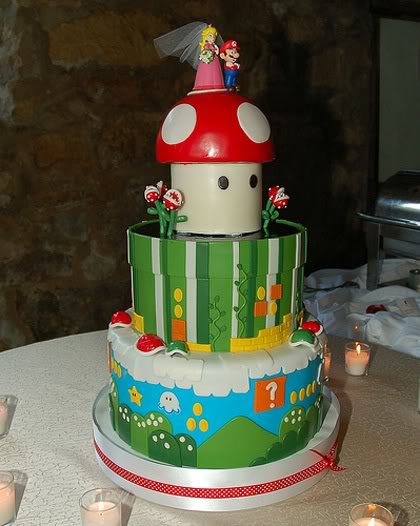 Image taken from: Vesicular
Well, not exactly a Mario Brothers wedding cake, but something as cool and as unique as one. Hmm… something from Kink Cakes would be nice, but we wouldn't want to shock the guests now, would we? Ahehehehe…
Anyway, this cake was apparently a surprise for the groom (who is a game addict) from the bride. Every detail on the cake is edible and made by a specialty wedding cake shop, Gateaux, Inc. (sorry folks, this one is State-side)… Well, except for the two figures on top of the cake. The bride was able to purchase them only from E-bay. It seems that you can't buy the Mario and Princess figures from your regular hobby store or toy store. They have to be imported from Japan! Lucky bride, talaga.
Now for my wedding cake… Haay… Must look for a groom first though…