Beyond tentacles
Got you reading the post, didn't I?
I know some people gleefully rubbing their hands right now. They bet that it wouldn't take me long to post something so Flori-esque . I roll my eyes upwards at that. Seriously, folks. I am quite wholesome despite how other people seem to paint me otherwise.
*thunder sounds*
I found a very interesting article in The Japan Times Online. Writer, Michael Hoffman shows us a cohesive and comprehensive rundown on the history of sex in Japanese culture. From the "conception" of the islands of Japan, to literary erotica in the Tale of Genji and The Pillowbook, from Japan's take prostitution to the current more "sexless" society.
Sexless? Really? I know!
During my first few weeks in Japan, prudish little old me was stunned at the audacity of the Japanese men who openly read hentai manga in trains. I would glance at the other people around to see if anyone was as uncomfortable as I was. It seemed that I was alone in my predicament.
And then I got a load of love hotels in Shibuya, the Condomania store and the S&M costumes for sale in Harajuku, the adult section in the used book store I would frequent, the whole floor (basement) of adult stuff in that 7-floored manga/anime store in Akihabara, the gravure books on sale, fliers left in my apartment mailbox that advertised toll free numbers, the porn and used-underwear vending machines that would come alive at night, the blatant come-ons of guys (even Middle School kids were merciless *agh, memories!*)… and girls. My gulay, sex was indeed everywhere!
What I liked best about the article is that Mr. Hoffman was able to explain our puzzlement with Japan's strange but nevertheless fascinating view on sex with just one sentence:
The Christian West traditionally idealized virginity; Japan idealized sex.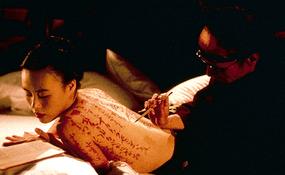 Still from the movie The Pillowbook. Image is taken from Juggling.org
For more of the article, please click here: Japan's love affairs with sex