A different take on Nana Day
If Datenshi chose to report the event, I choose to blog it.
Datenshi already gave you the important details of what happened at the Nana Day Philippines. "So what are you doing here?" you ask. Just putting my piso worth. Uh-huh, I know… as if it would matter!
Well, one thing I learned last Saturday was to not cram activities in one afternoon. I attended a birthday booze-out in Makati before heading out to Music Venue, Metrowalk. Despite the fact that I was already a little snoozy, I still had fun.
It was cold and raining when I got off the taxi. I looked around and just had a tiny thought, just a tiny fleeting thought, of hailing another cab and going home. I was only wearing a black shirt, a pair of maong chonglers and my trusty Mojo™ tsinelas while people were garbed in their best J attire. I finally convinced myself that I've never cosplayed before so why start now. And I was wearing black anyway. I grudgingly dragged my sullen self inside.
I wasn't able to watch the first band, Sourei, kick off what was to be a sugoi evening but I did get there in time to catch X versus Zero's set. Their guitarist, Kirby was wearing this outrageously cool Hawaiian shirt and a pair of glasses with red lenses so I had no choice but to shake the gloominess that seemed to have settled upon me. Besides, I had 5 songs worth of solo time with Datenshi before Tina-sensei came (she even saw one of her students there) and I didn't want to waste it. *Wink-wink*
The room was a little stifling and I wanted a little personal time so I excused myself from the company of Datenshi and Tina-sensei. I took my beer outside and simply zonked out on one of the bar stools with my eyes open. Talent!
Soon enough, Chelli appeared with some of our college orgmates (maybe some shout outs would help: Ver, Mel, Shari, Cris, Kwini, and Kats) in tow. As Chelli made her rounds, as she's such a very popular lady, the rest of the girls and I chatted a bit. When Chelli reappeared, we both realized that we were hungry so we went looking for a good place to eat with ravenous glints in our eyes.
As a result, I missed the rest of the performances. I heard 3 Day Trial and Progyny were their usual sugoi selves. Rtschrck had some audio problems but Datenshi seemed to like them fine just the same. But I should have been there when NEOTaku, Ducklings, and Armada performed non J songs. Sex Pistols! Franz Ferdinand! No Doubt! Bee Gees! Wait… Bee Gees? Yeah… Bee Gees!!!
I sat beside Datenshi as apparently, Tina-sensei went home at some point. Just in time to see the last 3 bands perform. PPF All Stars and This Side Up had amazing sets. But I guess Dou 'Ahou stood out for me just because they played my fave Ramones song (one of The Ramones staples I guess), I Wanna Be Sedated!
Good thing I wasn't. Otherwise, I wouldn't have had a "blast" in my own Flori way. Ne, Datenshi?
Congratulations, SEVEN Pilipinas! Although Team Sugoi couldn't oblige you this time, we hope that you'd still consider us for future events. Mabuhay kayo!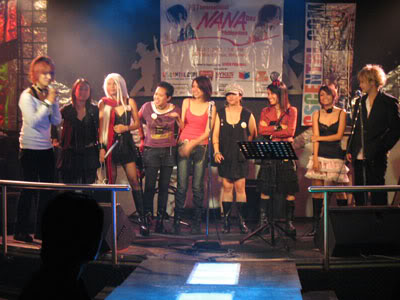 Take a bow, Seven Pilipinas!