Hana Kimi wanted ad
Are you good looking?
Do you look like a guy even if you're a girl?
Or even if you're a guy do you look like a pretty girl?
Are you often being mistaken as a high school student?
Or are you a high school student?
Then the "Hana Kimi Ouji" contest is just for you!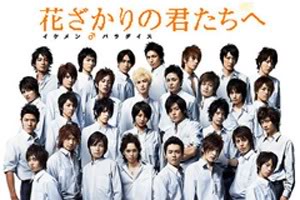 Photo from
Wiki-D-addicts
Sanspo.com reports that this is part of a promotional effort for the Fuji TV J drama, "Hanazakari no Kimitachi e," that we mentioned here. They are out hunting for "ikemen" or pretty boys all over Japan.
By the way I'm loving Hana Kimi just for the fact that I can see Oguri Shun take his shirt off for the past episodes. Nyahahahaha!