TransGen releases Namco × Capcom beta patch
We have once posted here in Sugoi Stuff about a ROM-hacking group called TransGen making an English translation patch for the cross-over strategy RPG Namco × Capcom. After months of waiting, the beta patch is finished!

Image Source: TransGen
Actually, the group had finished this project in May, releasing Version 1 on the ninth day of the month. They subsequently updated the patch and Version 2 was made up for grabs on the 24th. The patch, however, is still prone to some minor glitches as they mentioned in their site.
Here are some screenshots they produced from the translated version. (Click the images to enlarge.)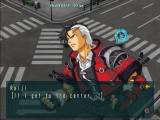 Image Source: TransGen
While that was a good news, TransGen has also reported that there are people capitalizing on selling copies of the game with the included translation patch. Here's what they had to say.
First I'd like to thank (to) the people that reported some suspicious and illegal actions that some people (were) doing on internet auctions by selling NxC disc(s) with our fan translation applied.

Anyways, I think it's pretty clear and stated in the disclaimer that we're not getting money out of the translation, but if you see someone selling the translation in an internet auction or something, we encourage you to report that (auction), thank you very much.
They plan to release the next version of the patch by August 8. By then they guarantee more bug fixes as more reports come to them.
TransGen, whose name is a shorthand for "Translation Generation", have also worked on the translation patches for PS2 games Kingdom Hearts Re: Chain of Memories and Zill O'll Infinite, and the FamiCom game Columbus: Golden Dawn.
Sources: TransGen, Wikipedia, GameSetWatch
Contributor Notes: Sorry I had to re-post this; when I checked my previous one regarding this news, I found out that it was "incomplete". And so here's the revised one.