Ongaku Remix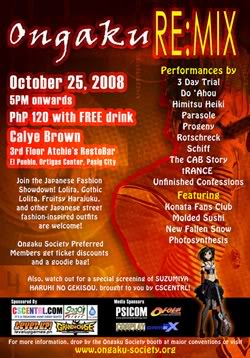 Click image to enlarge
SugoiStuff will also be raffling surprise items! See you at Ongaku RE:MIX!
Ongaku RE:MIX
25 October 2008, 6PM Onwards
Calye Brown (3rd Floor Atchie's RestoBar)
El Pueblo, Ortigas Center, Pasig City
Tickets @ PhP 120 with your first drink on us!
Performances By:
3 Day Trial
Do'Ahou
Himitsu Heiki
Parasole
Progeny
Rotschreck
Schiff
The CAB Story
tRANCE
Unfinished Confessions

Featuring:
Konata Fans Club
Molded Sushi
New Fallen Snow
Photosynthesis

Watch the Ongaku Society bands RE:MIX your favorite Japanese and Western pop tracks!

Join the Japanese Fashion Showdown! Lolita, Gothic Lolita, Fruitsy Harajuku, and other Japanese street-fashion inspired outfits are welcome!

Ongaku Society Preferred Members get ticket discounts, a goodie bag, and a special exclusive raffle just for them!

Also, watch out for the Special Screening and DVD Sale of SUZUMIYA HARUHI NO GEKISOU, brought to you by CSCENTRL!

For more information, drop by the Ongaku Society booth at major conventions, or visit our message boards.