Watchmen Director's Cut coming to video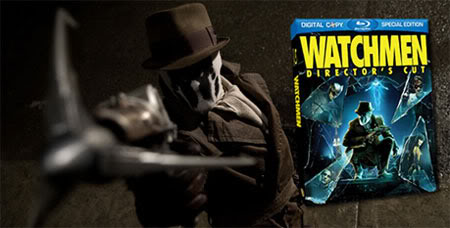 I liked Watchmen all because I am a fan of the graphic novels. That's why I got to appreciate the details and all. But given a non-fan point of view, it's way too long and way too messy to be regarded as a good film. It's a graphic novel supplement at best.
Now who wants to see the Director's Cut? It's still a couple of months down the line (release date's on July 25) but details have been revealed about the cut that will be appearing on DVD and Blu-ray.
The cut will feature 25 more minutes of Rorschach and a few more details. Blu-ray buyers will be treated to a Maximum Movie Mode that plays a whole lot of commentary, details, and even pages of the graphic novel appearing on the side. The Blu-ray release will also feature the following:
A feature on the mechanics and science behind Watchmen.
A real-world timeline that examines our universe as compared to that of the film.
The 25 extra minutes.
Production stills and concept art.
A look at the psychology behind vigilantism and heroism.
A much-needed, revolutionary "Pause" feature which allows you to go to the bathroom or get a drink without missing a second of the movie.
So is it high time to invest on a Blu-ray player (or a PS3)? Maybe.
Via: Film School Rejects