Solomon's is Sugoi paradise!
Finally! Team Sugoi and friends have finally admitted that they were tired and overworked individuals. They have finally humbled themselves and conceded that they are not as "sugoi" as they want to be, that they are only humans (although some would argue that they're goddesses : P) and that like all mortals, they also need a few days off for some well-deserved R&R. I was in charge of looking for a place and basically make all the arrangements for the trip. Thanks to Flori's Sex and the Barrio friend, Nina, she found just the perfect sugoi spot (yes, the S spot).
And so they hied their butts off to Solomon's Paradise, a small resort in Patar, Bolinao, Pangasinan.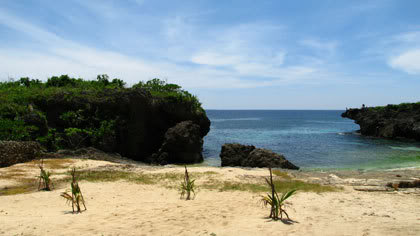 Switch to first person POV 😛
Our group was composed of two separate tribes (ala Survivor Bolinao):
Team Sugoi
Leader: Flori
Members: Kyam, Akutenshi, Datenshi, and Alex
FoTS a.k.a. Friends of Team Sugoi
Leader: Dyosa
Members: Chelli, Tina, Jason, and Cheska

Team Sugoi left the Victory Liner Terminal in Cubao at around 7:30 A.M. and arrived at the resort by 2:00 P.M.
Meanwhile, FoTS, left at around 6:06 P.M. (delay caused by the Jason's cab driver who emptied his LPG tank whilst trudging along the Aurora Blvd. rush hour traffic) and arrived at the resort by 12:00 MN.
All of us were tired and hungry, but all these discomforts seem to melt away when we saw the view:
The resort is run by some of the most wonderful people we know, Brett and Rosie with the help of caretaker Romnic.
The layout of the resort is pretty simple. You have five native cottages with a sand-covered front "lawn" which is great for some great beach volleyball/ beach football/agawan base matches. Each cottage can comfortably accommodate 2-4 people. It comes complete with a huge bed, a simple closet (with 2 hangers), a drawer/stand, an electric pot with coffee cups and instant coffee (which the caffeine addict members in the group welcome with great gusto) , a trash bin, and an electric fan. They also lay out a fresh (and sweet smelling) towel and free bar of soap for each guest!
Moving on, you have their reception area and bar. Off to one side are two bathrooms and two toilets. Word of advise, as Solomon's Paradise uses salt water for their showers, toilets, and basins, bring hair conditioner and a body wash (the liquid kind). Needless to say, I was the only one who enjoyed a sudsy shower.
Meals can be served in the huts near the beach area (which uncannily resemble the tambayan of our college org), inside by the bar, or even on the roof deck above the building.
Although Brett does allow guests to bring food with them (without corkage fee, mind you), his only request is that drinks be bought at the resort's bar . My advise, aside from a few nibbles, leave your gastronomical needs to the capable hands of Brett and company.
Food is delicious! Brett and Romnic are master grillers! Rosie, I will have to ask you some of your recipes! Totemo oishikatta!
And of course you have the beach! Complete with white sands, "panda springs" (refer to Ranma 1/2), cliffs, underwater caves, and crashing/crushing waves.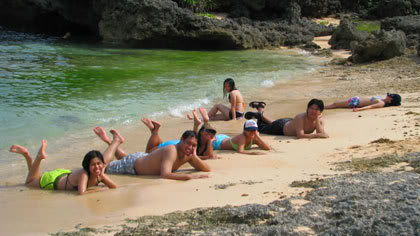 It sure doesn't get boring there. Aside from the usual beach activities, there are other places to visit around the area. The resort has a great sound system and Brett and Rosie are really kind to accommodate their guests' whims. We brought along an eXtreme Magic Sing and thank goodness, they didn't boot us out 😛
And the amazing thing is, we got everything for a low low price of PHP2,000 per head! That includes room, meals, and all the extra stuff we consumed! Here's a run down of the expenses per person just in case you're wondering:
Bus fare (two-way trip): PHP 900
Trike: Mang Cinding refused to bill us and told us to give him whatever amount we want. Let's just say that we were generous souls so for the five people in one trike, one person contributed PHP 60
Room (cottage for two, per night): PHP 1,500
Meal: not more than PHP 150 per person, per meal add more if you're the thirsty kind.
Sulit na sulit!
We really liked our stay there that we all agreed that award-winning graphic artist, Akutenshi, draw a caricature of Brett and Rosie. And here it is:
Three days and two nights aren't enough! I can't do my translations because I still have a hangover. I wanna go back! Pleaaaaase send me baaaaack!
Okay I'll stop, or else Alex will kick me back to Bolinao 😛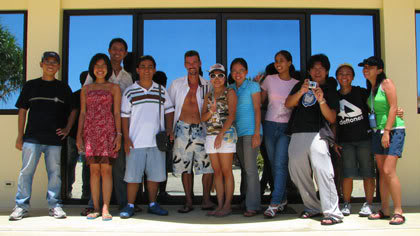 Yes, we will definitely be back.
Thank you Brett and Rosie of Solomon's Paradise!

Some photos taken from : Solomon's Paradise Multiply Site and
Photos by: Alex, Jojo, Bryan, Chelli, and Dyosa
For reservations and questions (i.e. Is Team Sugoi as crazy as it sounds?):
Solomon's Paradise
Brett and Rosie Solomon
Cape Bolinao, Pangasinan
http://solomonsparadise.multiply.com/
solomonsparadise@yahoo.com
09284748844
09284748845
09053981470
For personal takes and pic spams:
Short Term Effect
The Construct
Datenshi
Akutenshi 13
Sablay