It ain't just a band scene anymore
I was pleasantly surprised when I found out that one of the performers at the J Crunch Ripiito last Saturday was in fact a solo J Pop act.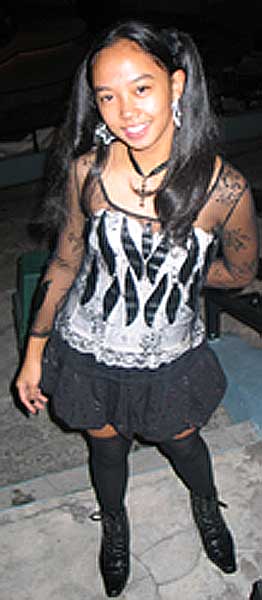 The young and pretty Setsuna. Photo by Ninjulius
Setsuna, a sweet but spunky senior high school kid had always known that she was a performer.
"I've been singing since I was a kid," Setsuna, shyly told me. "But I really got into the J scene only two years ago when I auditioned for the collegiate anime fair, kAME ulit and I got in! I performed upbeat songs. Actually, I only perform upbeat songs. I don't like the audience to fall asleep. I want them to get up and dance!"
Setsuna on stage. Photo by Ninjulius
Setsuna was apparently the pioneer in her genre*. But like the members of Pinoy J bands here in the Philippines, it was also her love for anime that started it all. She joined forums and watched conventions. That's where she became aware of J music performances. She wanted to go on stage and sing. The only problem was that she didn't belong to a band. All she had were her interest in anime and her love for singing.
"I just put my two passions together," Setsuna added. "I'm just glad that my parents support me. I don't know if I'll be performing like this for a long time, but I'm just enjoying what I'm doing now."
Belting out J love! Photo by Ninjulius
Well I hope that this kid makes it. J-inspired or not, she's one sugoi performer!
Stay tuned here at sugoistuff.net for updates on Setsuna's gig sked.
*As Kirby pointed out, Setsuna may not be the pioneer in her genre. There are also other J Pop performers such as the Pinoy Morning Musume and Trance. But so far, I think Setsuna is one of the very few, if not the only, solo J performer out there. 😀