Agent Mulder loves the sexy times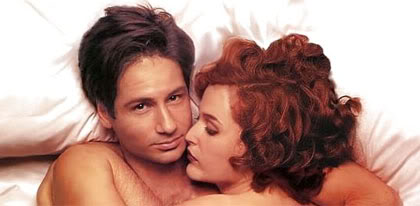 Why wasn't I too surprised when CNN ran this news on David Duchovny's sex addiction and his efforts to address it. The Intarwebs has been rife with this newsbit especially with the recent run of the new The X-Files movie in which he reprises his role as Agent Fox Mulder opposite Gillian Anderson. Not that I believe that the "X" in X-Files and his Californication role (where he plays a really horny dude) had anything to do with this.
I wasn't really into The X-Files but I do remember him being famous even among non-geeks just because a VHS tape of one of his low-budget adult films got circulated in our class. And to some extent you got to hand it to this guy – studied at Princeton, left before finishing his PhD to star in some pr0n. Then we all know him as Mulder and Tea Leoni's husband.
He has checked into rehab to ice down his mojo. I wonder how Tea Leoni dealt with it all these years.