Unsugoi: Dragonball's flesh-colored Piccolo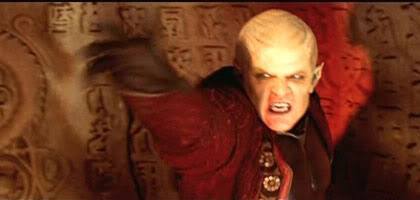 This officially makes it the next step towards Apocalypse. Dragonball has just release screenie teasers of how Lord Piccolo would look in the live-action Dragonball movie and, by gawd, it looks awful. Horrible. Appalling. I don't know if this screenie's just bad or the lighting's off, a flesh-colored Piccolo just plain sucks. And what's up with that costume. He looks like he's going to a gala or something.
This absolutely shows the lack of creativity of the Dragonball movie. Yes, cast James Marsters (famous as Spike in Buffy) as Piccolo and rip-off the Joss Whedon's vampire look too. Piccolo is a Namek. That means he's a green alien from outer space and not a spawn of the underworld. This is becoming more f*cked up than expected. The f*ckers.
For a supposed die-hard fan, Stephen Chow has murdered the franchise.
Source: Nerdorama