New "Sherlock Holmes" poster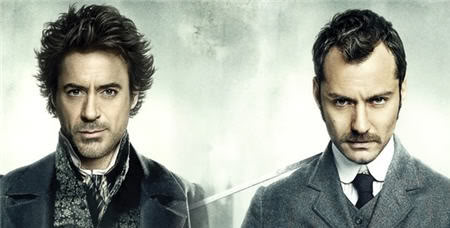 I have to give it to Guy Ritchie. His envisioning of Victorian England is just wicked. I think that if these posters are any hint of how visually impressive the film is, then I'm sure the Sherlock Holmes movie will be a treat.
I do like the cast as well with Robert Downey Jr. as Holmes. It'd be interesting to see how he creates his own characterization of the super sleuth. Jude Law as Watson somehow violates my image of Watson as a stocky fellow reading the abridged classics as a kid. I really don't like Jude Law as an actor but we'll see how he did with Guy Ritchie at the helm. Mark Strong (who I'm familiar with as Archy in Ritchie's RocknRolla) is Holmes' nemesis Lord Blackwood. Rachel McAdams also appears as Irene Adler.
The drumbanging has started even during filming but the film's set for a December release. Can't wait?