Stuff I missed
Here are some stuff that I would've covered had I not been AWOL for a couple of months:
Manga adaptation season enders
Two of my favorite manga had their season enders these past two months: Death Note and Hanazakari no Kimitachi e. There's nothing much to say about the former except that the point where the story "jumped the shark" is practically a season ender even if it's only marked by a recap episode. The latter would require a bit of explanation, though.
Hanazakari no Kimitachi e is a shoujo manga by Nakajo Hisaya. Personally, I enjoyed the series due to its weird nature: it's a shoujo manga, but reads as a shounen manga sometimes; it's a shounen-ai parody manga, but has half a volume dedicated to a shounen-ai side-story. Unfortunately, you won't find it in anime torrent sites because it isn't animated yet.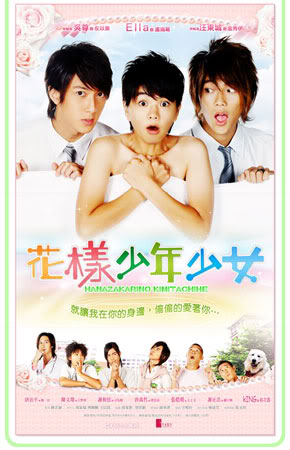 Instead, it was adapted (again) into a Taiwanese live-action series named Hua Yang Shao Nian Shao Nu last year and it ended its run last March, ending at around volume 10 of the 23 volume series. It is a much more faithful adaptation than Tou Tou Ai Shang Ni (televised locally by GMA 7 as Secretly Loving You IIRC).
With the continuous stream of Asian dramas being televised locally, expect either ABS-CBN or GMA to import this series in the near future.
Gimmick dubs for Beck and Bleach
On one side you have Sam Concepcion with local rock stars (Rivermaya's Rico Blanco, The Dawn's Jett Pangan, Sandwich's Raimund Marasigan, etc.), and on the other you have Marky Cielo and other Starstruck survivors. Being rock stars, I have more respect for the former and hoped that they would do a good job. Of course, I couldn't deny that the latter have more acting experience and would probably do better.
As it stands, both dubs share a similar trait: dubbing quality differs from character to character, with the protagonist being better than the other characters. Sam Concepcion's portrayal of Koyuki was much better than I'd expect from a first time dubber, while Rico Blanco's portrayal of Ryusuke seemed bland in the first episode (fortunately he gets better as the episodes pass). The rest of the non-regular dubber cast weren't that great, with a couple of exceptions. Jett Pangan is one, since he had previous dubbing experience. Teddy Corpuz is another. He had more lines as Chiba Tsunemi last Saturday and Sunday and it turned out okay.
On the Bleach side, even though Marky Cielo's portrayal of Ichigo sounds a bit off, but it's still a surprisingly decent one (just one or two notches below Sam's). As for Rukia, I'll say Yasimen Kurdi was definitely a miscast. She just doesn't sound the part (this coming from a guy who prefers the manga over the anime). Dion Ignacio's performance as Chad is okay (shouldn't be that hard considering he speaks little in the series). Nicole Anderson is also okay but the cuteness of her voice, like Rico's jaded attitude, sounds unnatural.
Overall, both are passable dubs and shouldn't be too painful to watch if you're not that elitist/purist. I think the big question here is:
How much will Rainier Castillo suck as Ishida? -_-
New spring season titles
You've got your usual mix of action, mecha, comedy, and fanservice anime. Out of these anime, only El Cazador de la Bruja caught my eye simply because it's a successor to Noir and Madlax and I'm a big fan of both. The rest… well, I guess I'll have to wait until a resounding "it's the next Haruhi/KimiNozo/<insert genre breaking series here>!!!" spreads throughout the internet hyping one of these series. Otherwise, I'll just pass them up.
Anime inspired telenovelas?
I don't think I would've posted about Lupin. I tried to watch the first episode, but gave up after around 15 minutes. I assumed that if they're going to mention the connection between Richard Gutierrez' character with either Maurice LeBlanc's or Monkey Punch's Lupin, they would've done it within that time frame. They didn't.
I don't think I would've posted about Rounin either. Even though it was originally called an "anime-serye" and the title is a correct romanization of ?? (masterless samurai), the trailers clearly depict the series owing more to the Chinese wuxia genre than Japanese film genres.