Congrats to Greenpinoy!
Congratulations to my friend, Jason of Greenpinoy!
Here's his good news:
Ang video ng interview ay mapapanood sa FIRST EPISODE ng THE GREENPINOY SHOW!!! 🙂 Ang The Greenpinoy Show ay mapapanood exclusively sa Projectube weekly mula March 1 2008 (tentative schedule). Susunod ang ibang mga detalye. Exciting!!!
And guess who his first guest is!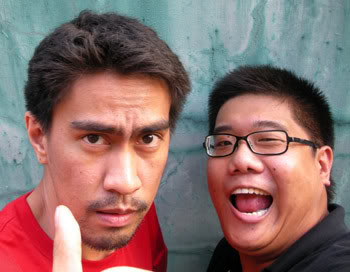 Photo from Greenpinoy

Tada! Sir Ramon Bautista – UP Film Prof, host of MTV's The Ramon Bautista Show and Gameplan's Misfit, comedian galore ( R.A. Rivera's Strangebrew, Dan Michael, etc.), music video star (Radioactive Sago Project's Astro and Wasak na Wasak, Tuesday Vargas' Naman, etc.), and fellow high school alumnus ( teka, alumna ako diba? Naks, para namang kilala niya ako NYAHAHAHAHA!)
Riot ito!!!
More Greenpinoy:
More Ramon Bautista 10 sikunds!!!: