MUSIC STATION to launch at Animax on March 9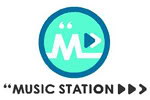 It's been around for a little more than 20 years but it'd be only now that we'd get some of their sugoi stuff. MUSIC STATION is Japan's most popular music variety show and it's debuting for our viewing on Animax. It's pretty much like TRL, J-style!
The show features everything about the J-pop scene complete with interviews, live performances and charts. Tune in to chance upon live performances from renowned J-artists like "no-namers" (harhar) like L'Arc~en~Ciel, SMAP, B'z, Ayumi Hamasaki, and more.
It airs on March 9, Friday, 7 PM at Animax.