Sienna Miller on Top Gear
Many people might not like Sienna Miller for being an alleged homewrecker after hooking up with Balthazar Getty. But hey, she'll be flooding our geek consciousness as she appears as The Baroness in the G.I. Joe movie.
Just take a look at the picture above and I bet you wouldn't care about her personal business as long as she provides the much needed man-eye candy for a movie filled with muscled men. Don't tell me you didn't welcome the sight of Lena Heady in 300.
As part of her publicity work for the film, she appeared on the popular TV motoring show, Top Gear, as the episode's Star in a Reasonably-Priced Car. Stars do a timed lap around the Top Gear test track. Despite only having a British license for a week, she was able to clock a reasonably good time based on the show's standards. Plus, she looks cute looking so worried driving the car. Compared to that fierce look she has as The Baroness.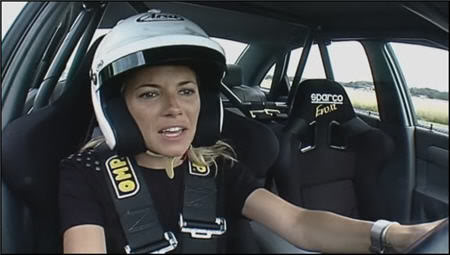 There are quite a handful of babes in skin-tight superhero garments in the news today. Quite honestly, I think I like Sienna's The Baroness over ScarJo's Black Widow.
Via: CarFront