I heart Little Tokyo!
I was really meaning to write a 300 review but remembering those 2,400 plus abs is just too much for moi (masakit sa puson)!
Anyway, I'll turn to the next best thing to hunky dudes – food!

Sugoi Saturday was indeed sugoi! Aside from being able to see pretty girls in cute maid uniforms, I also discovered Little Tokyo!
It's actually a small area in a corner of Makati City (along Pasong Tamo) that houses several Japanese restaurants. I would've wanted to get in all of them but I didn't for a few reasons:
1) I wasn't alone.
2) I didn't have enough money to sample EVERYTHING.
3) The rest of Team Sugoi and F.o.T.S. (Friends of Team Sugoi) would have eaten me. They were THAT hungry already.
Since all the members of Team Sugoi are fans of Abe Hiroshi (a Japanese actor), and couldn't seem to forget a scene from Kekkon Dekinai Otoko where Mr. Hiroshi's character was cooking okonomiyaki, we decided to go to one small resto that serves this Japanese dish of cabbage and meat in a batter cooked very much like a pancake.
Chelli-chan and I took charge of ordering since we were well acquainted with Japanese food, having been a mama-san and a geisha in Japan respectively, a few years back. We had two kinds of okonomiyaki – one with seafood and the other without (since Alex is allergic to seafood), two orders of chikin karage (fried chicken meat), and one order of yakisoba – not the instant kind which is a hell lot different. For drinks, we had iced tea, oolong tea, and water.
Oh my… the meal was soooo oishii! It's how Japanese food should be! The price wasn't too bad. We (actually, Alex) probably spent more-or-less two thousand pesos for six people, and it felt like we were actually eating in Tokyo.
The only regrettable thing was that there was no teppan on the table so we couldn't cook the okonomiyaki ourselves. Well, maybe it was a good thing that the cooking was left to the Japanese chef who was probably also the owner (it was amusing to hear the Pinoy waitresses to call him Master, which is a translation of the more appropriate term, sensei). Otherwise, we could've botched it and ruined the meal. Naku, patay tayo diyan!
And for maintaining that complete Japanese feel, we even shouted a "Gochi sousama deshita! (thank you for what we have received)" as we went out of the door.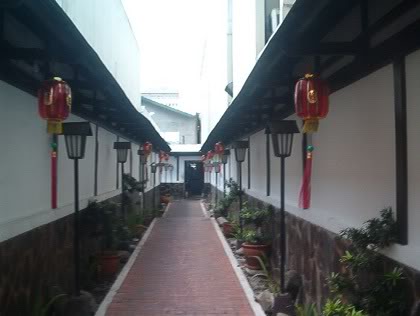 It was a peaceful Saturday afternoon…

…when suddenly, a pack of hungry cyborgs came traipsing along.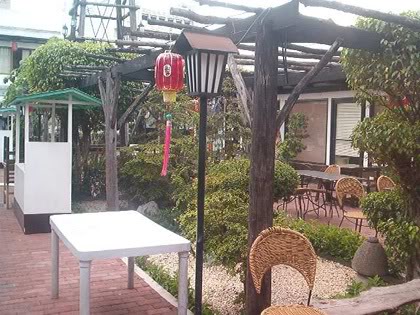 They looked around and searched for food and found…

Okonomiyaki!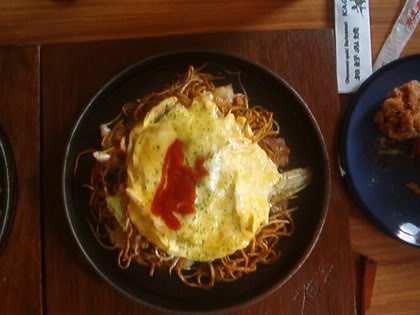 Yakisoba!

They devoured the feast and left nothing but plates and used chopsticks.
Haay… I vow to return and sample what the rest of Little Tokyo has to offer.
For a recipe of okonomyaki, click this link to Japan-guide.com.