More mochi!
It was supposed to be a secret, but I guess the secret is out…
The only reason why I went to last Saturday's 2007 Nihongo Fiesta was because of the free mochi. Call me a glutton but I don't think my love for the Japanese sweet (very similar to our own palitaw, a traditional Filipino rice delicacy that I adore) would actually send me to the fiery pits when my spirit leaves my earthly body.
Weng-sensei looked at me warily when she saw this pic.
Weng-sensei: Flo-chan, sigurado ka ba yung mochi ang kinukuhanan mo? (Flo-chan, are you sure you were taking pictures of the mochi?
Apparently, even the way you make "palo," er… I mean pound the mochi is an art form. The angle upon striking the mochi should be precise, otherwise splinters from the wooden mallet could find themselves embedded in the mochi. Woe is anyone who has to have his tongue pricked while innocently enjoying his treat!
Anyway, after these two "mochi-men" were finished with their uhm… pounding, the mochi was then given to the ladies whose tasks were to mix other ingredients into the mochi, cut them, and serve the yummy morsels.
Here is Weng-sensei serving mochi to the hungry masses: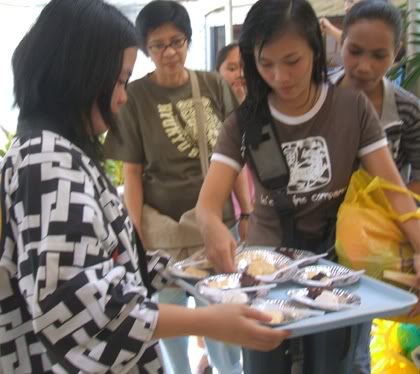 And the mochi up close and personal. Yeah, I know I had two. Too bad, you didn't get even one!