Up yours, Spartan
Spartan Government Warning: Spoilers may be dangerous to your knees. Walang luluhod. Nakamamatay.
Mixed reviews. Rants. Raves. "They're gay!" comments. Asinine takes. Scholarly takes. Blabber all you want, I loved 300. But don't expect a lengthy review with this one. Just some things I'd like to say about the film.
Forget historical inaccuracies, loyalty to the graphic novel, and characterization. If you worry too much about those, 300 will bore you to death. It'd be nothing more than a yellowish string of gory pictures and ripped muscles. Oh and some deformed debauchery. And yes, some female nipples too. To those who hated it, I perfectly understand. To those who loved it (like I did), likewise.
Pecs and abs galore! Yumeeeh!
So it's a very loose adaptation of the Frank Miller's graphic novel which is also loosely (bacon brief garter loose) based on the historical Battle of Thermopylae (Hot Gates) where 300 Spartans led the Greek defense against the invading Persian army. So as far as bases go, it's so loose, it's like having your underwear slide down to your ankles.
Now this is Spartan reserve.
The only tight thing about this is the visual rendering. It's an injustice how the director, Zack Snyder, is getting all the flak about how the Persians were deformed and how gay the scenes were. Go read Frank Miller and you'll know what I'm writing about.
Ephialtes is a lucky orc.
Still, 300 is a visual treat more than anything. Take a graphic novel, frames, illustrations and colors, make them move. That's 300. Forget about that weird Ang Lee take on the Hulk, it's 300 that did the job. The visuals (the use of digital backdrop) and tons of filters made the film a very crisp visual treat. Great effects (Wow, was that limb?). Great choreography. Though it could've done away with the slo-mo overkill.
So how's this for a film rendering?
There were also parts of the graphic novel that weren't in the movie like this panel that could've made the movie gayer.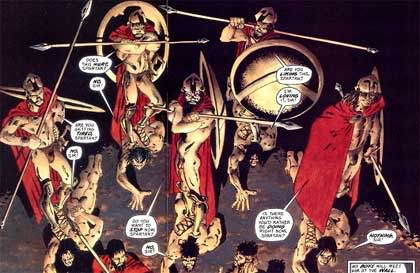 Spartans on back massage: "Are you getting tired, Spartan?"
For hot blooded men, it was a treat seeing Queen Gorgo's and the oracle's luscious breasts in the midst of ripped male abdomen (and those gay moments).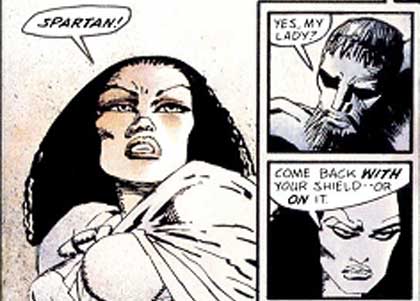 Good thing Lena Heady was a lot hotter than this!
The digital backdrop and yellow tones really emphasized the visuals. They also did a great job on the the other effects.
Stelios is the Greek Kamen Rider!
Don't forget the Oliphaunts! Hey, this isn't LOTR!
Tuuuwaaaaad!
Ilan yan, 'pre?
A few interesting points (Spoiler alert!):
Stelios ends up as the Legolas-type character. Astig and fafable. His character's referred to as "Stumblios" in the graphic novel (Guess why).
Gerard Butler (Leonidas) took up law. But you don't scream that much in court right?
Rodrigo Santoro (Xerxes) played Carl in Love Actually. But we love his Bella Flores brows as Xerxes.
You get to see an insanely ripped Faramir in David Wenham as Delios
The film should've featured a "kill counter." Ayan, 297… 296… 295…
Delios shouldn't be counted so logic says only 299 Spartans died. And I thought Greeks were good in Math (Damn you Archimedes, and Pythagoras, and Euclid…!). Oh well maybe because Spartans aren't boy-lovers.
I used to own a Spartan-brand tsinelas back in the day. Ha!
Anyway, there you go. A simple take from an obvious fanboy (to the film and graphic novel damnit! Not the abs and pecs!). This classifies as a must buy when the original DVD comes out.
No laser beams. Laser beams, nakamamatay
.