So, Pinoy TV… what's next?
First, it was Sailormoon. Then it was Shaider. Recently, it became Marimar.
As Team Sugoi ponders these recent disturbing news, the poor members gasp in horror as they realize what's left!
It's gonna be either Bioman or…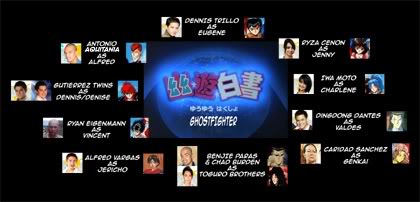 Click the image for a much bongacious view. Artists' photos from Friendster and iGMAtv Original Philippine casting concept by Team Sugoi.
ARGGHHHHHH!
But then again…
Hey, we posted the idea first! If GMA7 decides to do a remake of this anime, then they'd better pay us royalties. Nyahahahahaha! Aba, pinag-hirapan namin ang casting!
P.S. I just realized that I wrote Genkai and not Jeremiah. Tsk! Silly moi.