Stop, Mr. Postman!
Oh drat and I thought, Ninomiya Kazunari gonna play the postman this coming holiday season. Apparently I misread the news (since it's in Japanese).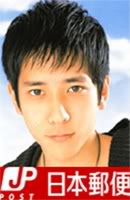 Arashi's Nino-kun has just been tagged as spokesperson for the newly privatized, Japan Post. He'll be endorsing the New Year's card campaign, as snail mail is getting beaten by e-mail.
I still wish he delivers the mail though.