English patch for Namco × Capcom in the works
One of the best cross-over video game titles I have ever played so far is Monolith Soft's tactical/action RPG, Namco × Capcom (read as Namco Cross Capcom).
Image Source: Wikipedia
This game, which was developed by the same company associated with the Xenosaga series, featured characters from games produced by Namco and Capcom (that is if it isn't obvious enough). It was released on May 26, 2005 in Japan, but I only got to play the game two weeks after its released. I grew impatient waiting for N×C to be distributed here in the Philippines.
When I finally got hold of a copy of it, I couldn't help but imagine Tekken's Jin Kazama fighting alongside Street Fighter's Ryu in that game. I also got to see Darkstalkers' Morrigan and Xenosaga's KOS-MOS, among my other favorites. (I'm such a fan boy, am I not?)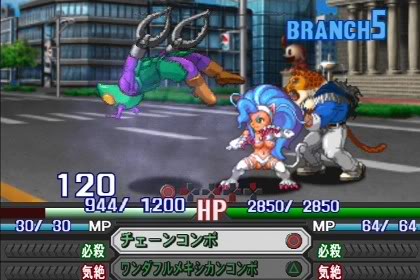 Image Source: Wikipedia
(Click the image to enlarge)
I finished the game after a month or so (because I still sleep, mind you), but because the game is in Japanese language, some parts of the whole story made no sense to me at all. I had to look online for the English translation of the dialogues, but I saw none. I even went as far as to signing on an online petition that requests the developers produce an English version of N×C.
It was only after two years when I found out by browsing through Wikipedia that a group of people who call themselves TransGen are making an English patch for N×C. Currently, they are in the stage of beta-testing, and they are in need of more beta-testers. You can visit their website for more updates.
This news may not be new anymore, but don't get me wrong. I just posted this to inform those who had been craving for an English version of Namco × Capcom.
And I'm merely raving anyway.