Sugoi cell straps: OL wrestles drunk salaryman
Remember my post on drunken salaryman cellphone straps?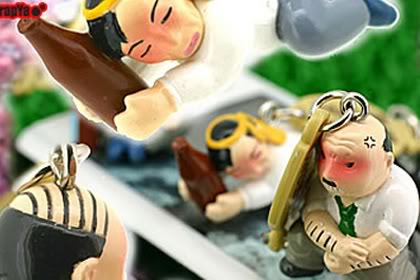 Well, the folks who manufactured those cute collectibles have gone a step further with their concept.
What are drunk men (salary or not) prone to do when they see office ladies (OL's) in the streets at night? So what are these "hapless" ladies prone to do in retaliation?
Match the moves with the pictures!
1. Cobra Twist
2. Alex Bomber
3. Giant Swing
4. Boston Crab
5. German Suplex
6. Argentine Back Breaker
You don't get a prize but these crrrrrazy cellphone straps are available at StrapYa World (got the pics there too :P) for 420 JPY (4.15 USD) or 170 PHP.