Calculator video camera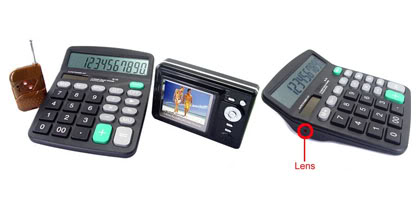 I remember the time in high school when calculators only functioned as those dumb 12-digit arithmetic machines good for typing S8008 then flipping the thing over. Well, that was until we got hold of graphing calculators which we hacked and programmed to be our ultimate geektool. Yup, we even used it for our Christian morality classes. Hehehe.
Anyway, now I just wish we had this baby back then – the Calculator Video Camera. It is a fully functional calculator with a large-ish display making it perfect for those wee moments of number crunching but the real appeal is the camera built in to this thing that transmits audio and video feed to a receiver that displays (and records) the feed. This surely would have trumped hand signals and ballpen-tap Morse code for casually observing what your seatmate is doing.
Well, this shouldn't stop you for getting one for office work. Whether it would be to catch that bastard who steals your pen or to do some other "inspection" work. Catch your boss picking his nose or scratching his butt. Oh, and office scandals, anyone?
This would be one of the ultimate office spy tools that you can get your hands on. That is if you have $193.75 to spare. You can get them online here.
Source: Geeky Gadgets