Ryu meets "Ken" in a future cross-over fighting game
And no, I didn't mean Ken Masters; I meant Ken Washio from Science Ninja Team Gatchaman. It wouldn't be a cross-over if I said it was Ken Masters, would it?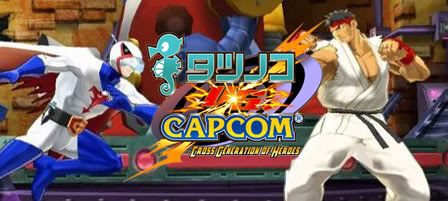 That dream match will be realized in the near future, as Capcom teams up with Tatsunoko Productions, the animation studio behind Speed Racer, Tekkaman and the aforementioned Gatchaman, to bring us Tatsunoko vs. Capcom: Cross Generation of Heroes.
Would you look at that; Street Fighter IV hasn't been officially released yet, and now here's Capcom with another possible blockbuster!

Aside from Ken, the game will include Tekkaman and Casshern from Tatsunoko's side, while Street Fighter's Ryu will be accompanied by Chun-li and Justice Gakuen's (Rival Schools) very own Batsu Ichimonji.
If you recall, Capcom was developing Capcom Fighting All-Stars, which was supposed to feature Batsu, but it was cancelled due to negative feedback. I think putting Batsu here is one of the best moves Capcom has ever pulled off for the game. I've been missing Rival Schools, for crying out loud!
Image Source: Capcom's official website for Tatsunoko vs. Capcom
Anyway, moving forward, Wikipedia cites that Alex (Street Fighter III), Morrigan (Vampire/Darkstalkers), Gan Takada/Yattaman No.1 (Yattaman) and Hurricane Polymer (Hurricane Polymer) are also included in the game, but they are yet to be seen from screenshots.
If I can be selfish, I would love to see Dante (Devil May Cry), Zero (Rockman Zero or Rockman X), Strider Hiryu and Samanosuke (Onimusha) in that game. And it wouldn't hurt to see Sigma, Lord Nobunaga, or even Nemesis in it, would it?
I think there is a possibility that they include characters from Shulato, but how about characters from Speed Racer? Or even better, why not any of the EVA Units? But if they really want to crack us up, they could include characters from Superbook or The Flying House!