Phoenix Wright to be made a Musical Comedy
Capcom announced that their video game Phoenix Wright will be produced as a musical comedy by the Takarazuka Revue, a Japanese all-female musical theatre.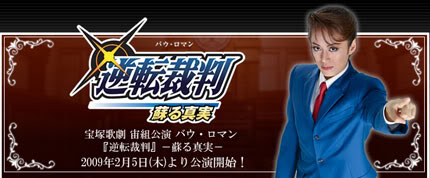 Yes, your favorite Ace Attorney will be singing and dancing live on stage in the form of Ranju Tomu from the Cosmos troupe this coming February.
View the clip after the jump to have an idea how this will all turn out to be.
Phoenix Wright: Ace Attorney, or Gyakuten Saiban Yomigaeru Gyakuten as released in Japan, is a fun visual-type novel adventure game series for the Gameboy Advance later ported to the Nintendo DS.
And I loved the game to bits, so am quite a bit perplexed on how all of this will turn out.
News from: Capcom