J-Dramas Spring 2009
This week is the start of Spring Drama season in Japan and I am anticipating so many dramas, it's unhealthy. Most probably most of the actors I follow will be having a series this season.
Anyway, I've noted down my short list.

Shiroi Haru*
Stars Abe Hiroshi and Ohashi Nozomi.
Started April 14, 2009.
Abe plays a former yakuza who has gotten out of prison and finds the life he left and the things he believed has changed.
I'm completely anticipating this as this was written by Ozaki Masaya, who wrote for Kekkon Dekinai Otoko and At Home Dad, two Abe Hiroshi dramas I loved. Also, having Abe Hiroshi in it doesn't hurt.
*pictured at the top of the post
Source
Atashinchi no Danshi

Stars Maki Horikita
Started April 14, 2009
Maki plays a homeless girl who was left with a huge debt by her estranged father. A man gives her an offer too good to be true, but the consequences of meeting his six adopted sons can be problematic.
The trailer for this which I saw after watching Mei-chan no Shitsuji was fun and quirky which makes me want to watch it. But we'll see.
Source
Smile
Stars Matsumoto Jun
Starts April 17, 2009
Matsumoto Jun plays a half-Filipino who works hard to make his dreams come true but encounters hardships one after another.
Matsumoto playing a half-Filipino, intriguing! And I saw the trailer where he spoke a short line in Filipino. Might just watch it to find out how it all came to be.
Source
The Quiz Show
Stars Sakurai Sho, Yokama Yu and Matsura Aya
Starts April 18, 2009
Sakurai plays the host of a live TV quiz program. On the show, contestants who achieve 7 correct answers win 10 million yen, and those who get 8 correct answers will have one of their wishes granted by the TV network. But while the questions start off innocently enough, as the game progresses, the questions gradually delve into the contestants' past crimes or indiscretions, presenting them with the dilemma of having to confess their guilt in order to win.
I love a good mystery, and this could be fascinating. This is the second season of the same name, but a different premise. I don't know how this will relate to the first one, but if it's any good I might pick up the first season. And Sakurai Sho is in it! I found him cute from Yamada Taro.
Source
Majo Saiban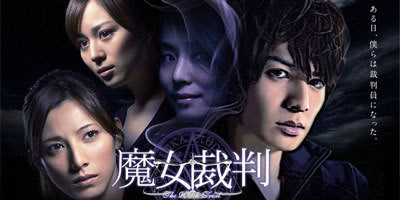 Stars Ikuta Toma
Starts April 25, 2009
Toru is a young part-timer who has no interest in social issues. He gets called in as a juror in the trial of a woman labeled as a "witch", charged with a murder over an enormous inheritance. Though it appears that she is definitely guilty, one by one the jurors begin casting their votes for "not guilty." From the shadows, there is a mysterious organization buying control of the jury. At the same time, strange events start happening around Toru. When another juror is threatened, Toru is determined to save her. However, Toru's girlfriend, a newspaper reporter, seems suspicious of their relationship. And so, Toru begins his lonely fight for the truth.
One reason why I'm watching this: Ikuta Toma. And I have a feeling he's gonna make me cry again.
Source
MR. BRAIN
Stars Kimura Takuya, Ayase Haruka and Mizushima Hiro
Starts May 23, 2009
Tsukumo Ryusuke is neuroscientist working for the National Research Institute of Police Science (part of the National Police Agency). He is generally incapable of reading the atmosphere of a situation, but when it comes to science, he is well respected. Whenever something catches his interest, he thoroughly sticks to it and never gives up, chasing down the criminals with certainty.
Quirky main protagonist, crime-solving and Mizushima Hiro. Enough said.
Source